With all the sad events going on in Paris and all over the world recently, it doesn't really feel right to be talking about Christmas. With that being said though, life does inevitably go on and we have to live it in the most positive and thoughtful way we can. So yes, this does entail Christmas shopping but when done in a certain way, you can also give money back to people and charities that need it. With the help of a website called
easyfundraising
enabling you to shop on huge favourite brands and retailers whilst donating a percentage of each sale to a charity of your choice.
Sign Up
It's extremely easy to
set up
, only taking a few minutes to choose your chosen charity and then you can shop straight away. I would recommend knowing what charity you want to donate to first, as you choose upon sign up and can only have one allocated charity at a time to donate to. I chose a charity close to mine and my families hearts and that is the Crohns and Colitis UK charity. As you all know I have had Crohns since I was 13, and my triplet sister since she was 18 and it's charities like this that fund research into life changing illnesses. Also a quick shout out to an AMAZING charity,
Get Your Belly Out
, that supports people living with Crohns and Colitis in every day life and I have your Facebook Forum to thank on so many occasions. You have to make sure to search for a retailer and shop through this
link
, in order for your donation to be deducted and issued. I have attached some screen shots below of the dashboard you see when you log in, with my charity and how much I have earned for them so far. This is literally the perfect time of year to be showing you this amazing platform, as we all burn holes in our purses and wallets buying gifts, why not do it and give to charity at the same time, it's SO simple!!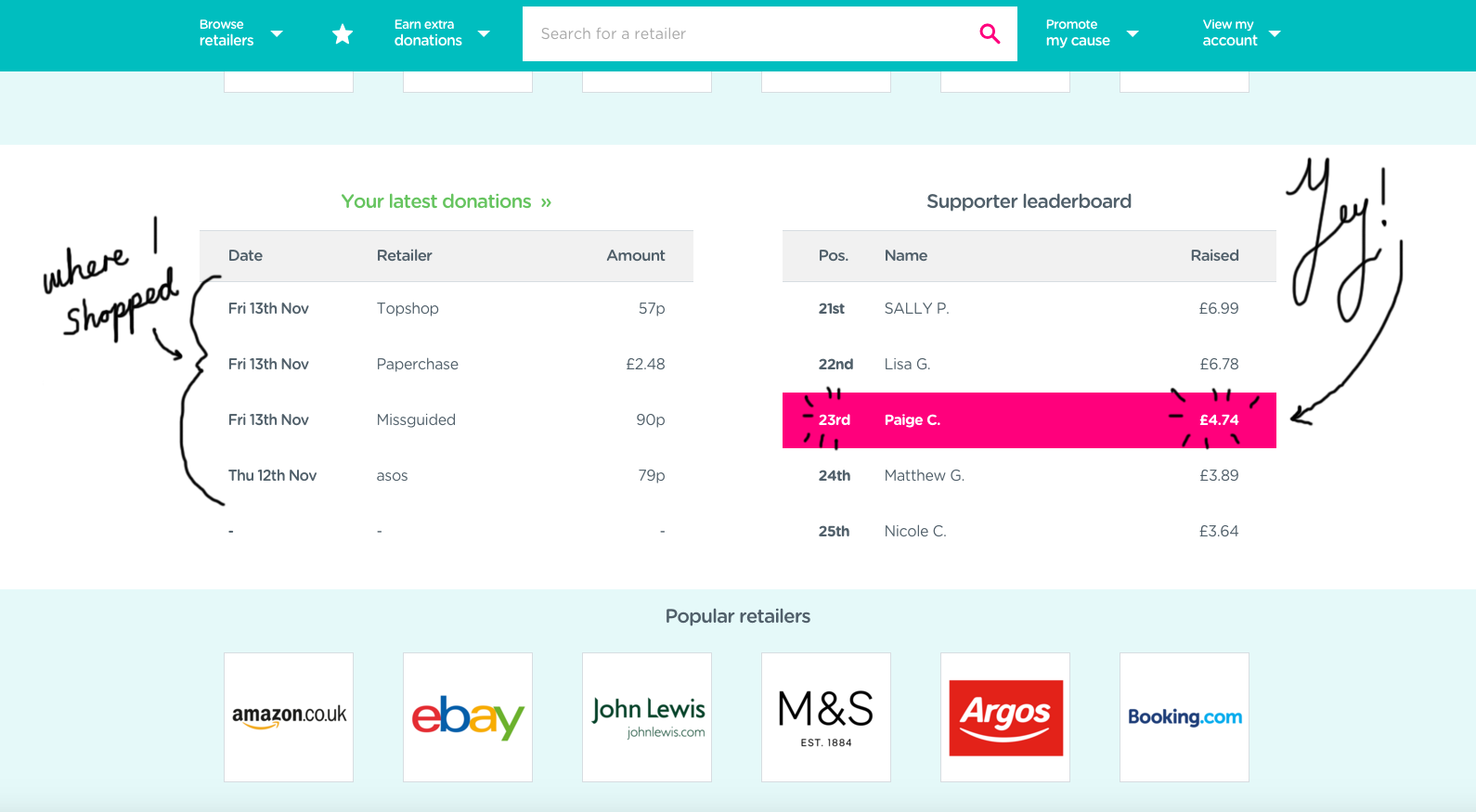 Below is the selection of things I have brought so far using the website! As you can see I got a mixture of things for myself, Christmas presents and Christmas decorations, it really does show how versatile and open it is for shopping so many different things. With the huge amount of shops on board you can do all your Christmas shopping through it, see below what I went for.
1, Paper Chase 2016 Organiser
2, Paper Chase photo frame for my friends birthday
3, Paper Chase Christmas Cards
4, Asos Boots
5, Topshop Green Dress (Perfect for Christmas parties)
6, Topshop glitter tights
7, Paper Chase Gingerbread garland decoration
8, Paper Chase Butterfly Stamp 2016 Diary fir my friends birthday
9, Missguided jumper dress
10, Paper Chase London Tube Mug for Chris (Christmas Present)
11, Paper Chase London Tube Map Case
12, Paper Chase Copper Bird Lights
13, Amazon Just Cause 3 Game for Chris (Christmas Present)
I hope this post shows you how amazing and how easy it is to give something back to people and charities that need it during this materialist time of year. It feels great buying myself, friends and family wonderful gifts but also it can become over indulgent, I really can't wait to use easyfundraising again all through the year, and I hope you do to. Share your purchases with the hashtag #MoreThanAGift