With London Fashion Week now finished for another season, it is a great time for me to reflect on my favourite designers, collections and street style trends we will be seeing this SS16. I have been totally inspired by the latest cat walk shows, along with bloggers and researching trends for this season. So I will round up my favourite looks and styles with illustrations.
Candy Pop
This trend is all about the colour pallet, with candy like pastels coming back in again it is sure to be a treat. Think bright prints, florals and luxury fabrics. The girly vibe goes big, with sequins, soft ruffles and over-sized bows. Dress it up in flirty blouses, frilled florals and pretty layers of lace in sweet candy shades and chaotic brights. Boohoo are launching their occasion wear this season with a huge focus on this trend, so be sure to look out for that! This style is luxurious and the bolder and brighter, the better, but this can come at a cost. Mixing higher end products with high street can really achieve an expensive, lavish and extravagant mixture – which is what it is all about!
Image from Boohoo Occasion wear launch event.

This season on the catwalk saw some amazing colourful trends going into AW16, progressing on from this season, with high embellishments and layering! More is certainly more for this style. I predict many high street brands mimicking the candy embellishments of Temperly London, Dolce and Gabbana and Salvatore Ferragamo. A great way to access these brands and many more (like Channel and Burberry) is on Hardly Ever Worn It, where you can get amazing designer luxury items at a fraction of the price, and achieve this candy pop look.
Botanical Florals and Embellishment 
This look isn't exactly new to us all, but it is one that continues into the new season – Botanical floral prints are seen everywhere on the catwalk and High street. Expect lashings of embroidery, clashing prints and a mixture of deep jewel colours and more seventies style prints. When worn with denim it makes the look wearable for everyday styling and amazing on summer days. Expect to see a lot of butterfly prints coming in as we progress into AW16.
Cyber Babe
This style is not for the faint hearted, with eye catching hair colours, metallics and star prints taking centre stage. Frayed denim teamed with sheer or metallic crop tops show off a modernised 90's cyber goth look. Accessories and details also play a big part, with novelty bags and fish nets making a come back. Think plastic back packs, pom pom's, chunky sneakers and ankle socks. Complete the look with a colourful biker jacket and you are sorted!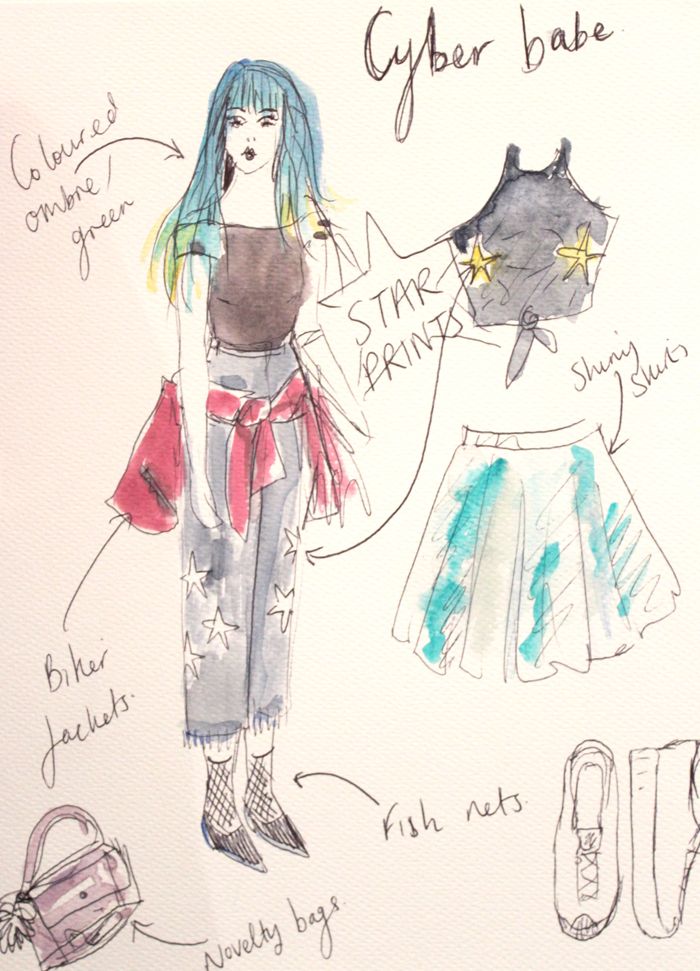 On the catwalk there was a great mixture of fabrics, shapes and star prints.
NYC Modern 90's
This style is another take on the 90's revival, but set in down town New York City. It is a clash of sporty and feminine styles, layering slip dressed and more slouchy sport shapes. Retro brands such a Fila are making a come back with sweaters and slogan t-shirts, team with a floaty nude chiffon skirt and white plimsoles for a take on flirty meets tom boy!
Other styles!
Below is a colour pallet I put together after visiting London Fashion week, assessing street style colours and researching Spring '16 trends. Mustard yellow when worn with denim is going to huge, as well as candy pastels and faded greens and nudes.
I hope you liked my input into what styles will be coming in for LFW SS16 and how I put it together. Let me know if you enjoyed this style of post and I would love to do something similar for each season.