I don't really know why but I fancied writing a more chunky post today. I don't intend on writing anything here that will stay with you for years to come, more like an explosion of thoughts that I have been saving up lately and want to express.
Days are coming by quickly and with each one, over the past few weeks (since the start of the new year) I feel as though I've changed slightly. Change in my opinion can only be seen as a good thing if you think positively, but I am struggling to keep up that glow of a 'new year new start' attitude.
Last night it occurred to me that I don't let on how stressed out and tired I actually am. Not with anything big as such, like nothing drastic or sad has happened, just the general every day goings of life and the small annoyances that come with it. It caught up with me how soon my whole life is going to change completely, with the move to London!! I am relocating which means change in environment, seeing my family a lot less and making a new start in new surroundings. Along with this I also realised that lately I have lost a lot of friendships and sometimes this is for the better but I also wander if there was anything more I could have done.
What I am thinking really is the small constant changes in life that happen on a daily basis do eventually just catch up with you. Last night they all did, and I'll admit I got a bit emotional thinking about everything and also about how I am myself as a person. What I came to realize (with the help of my boyfriend and best friend Steph after ranting to them) is that in order to be happy with changes and progress I must be happy in myself.
So this brings me to the present and why I felt writing a post on how I'm feeling had any significance what so ever. I wanted to tell you guys that do read this blog that it's okay sometimes to just be sad, let those emotions of change and progress catch up with you. Hold onto them for a little while, really cherish memories you made along the way and then let them go, like falling to sleep and starting a fresh day.
Change is for the better and I have a lot to come over the next few months. Becoming an Auntie for the first time, moving to London and hopefully seeing more progress on my blog! It's all exciting and I wish to share it all on here for you guys to see, and for myself to look back on in a few months or years time. That way when these emotions catch up with me again I can look back and see that I got through it this time and I will be able to again. so if you are reading this and understand what I mean, maybe you feel like you are in the middle of a 'change period' then let it happen, be okay with it and learn to love yourself and the journey you are on. We all sparkle in our own way!
A really lovely follower of mine on Twitter (@Mar_bear_) said to me 'Don't compare your beginning to somebody elses middle' and she is so right. We all do this, and social media makes it even easier to feel less fortunate than others. All I can say is learn to love who you are, what you have and how you share it with the world. That way we can all progress in our own way and enjoy seeing each others journeys in a less selfish and jealous manner.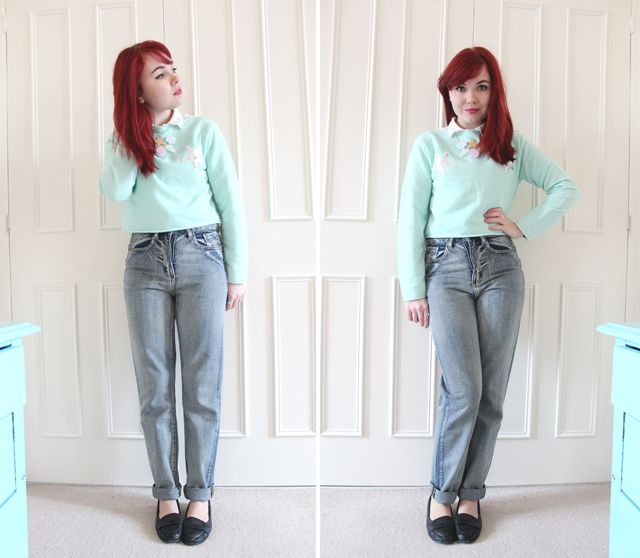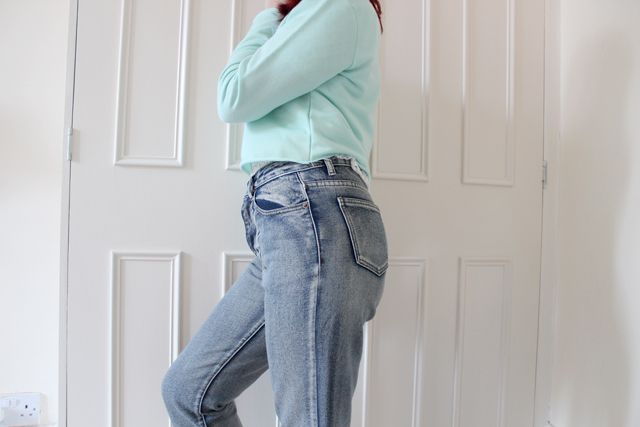 Start jumper – Missguided
High waisted mom jeans – Missguided
Lace collared shirt – Vintage
Black loathers – Primark
Shell necklace – Sugar and Vice
The outfit to accompany this post is very mermaidy in detailing. I brought the crop star embellished top in the
Missguided
sale, and it is adorable! Worn with Missguided mom style jeans, loathers and a cute collar poking out! The shell necklace was perhaps taking the sparkly, cute thing too far but I couldn't help myself!