Above is a diagram of a rectangle of fabric that is extremely simple to measure out and is the basic block to your skirt.
If you have up to a 28 inch waist then all you will need is a meter of fabric, whether you go buy some tartan like this one or have some scraps left. The average width to a roll of fabric is about 1.2 meters/1.5 meters which is enough to make one skirt. If your waist is slightly larger comment below and I can explain another method.
For example, my waist measures 27 inches so to make my skirt, I double that making 54 inches. The length really depends on your height and preference, I like mine above the knee so went for a 19 inch length from the waist. Add on 1 inch for a waist band and half an inch for the hem, simple!
Method:
1. As explained above measure your rectangle and cut out making sure to add on those seam and waist band allowances. (If the measuring part sounds confusing feel free to comment below and I can explain further).
2. If you have an overlocker then go ahead and overlock the edges, you can keep them raw but they may fray depending on the fabric. Alternatively you can use the zigzag stitch right on the edge to keep the fabric strong.
3. Firstly, fold the rectangle in half good sides of the fabric facing together and sew together.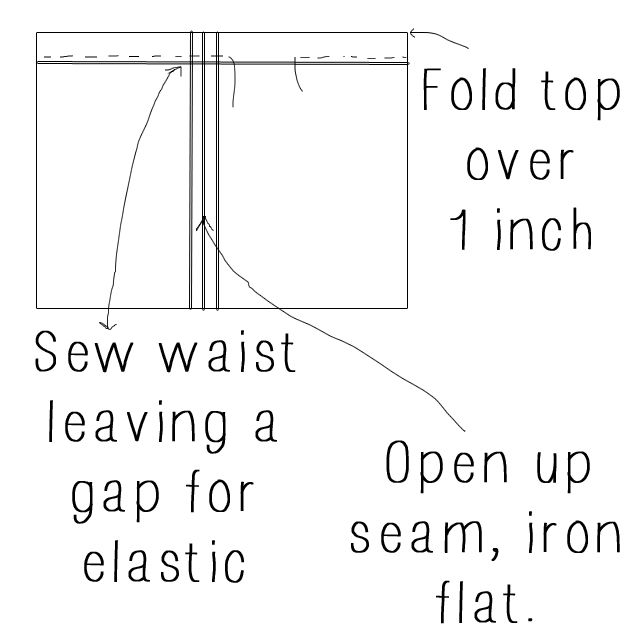 4. Once sides are sewn together you will have a 'loop' of fabric. Iron seam open to keep neat. Inside out fold in an inch for the waist and sew as shown in the diagram, leaving a gap to thread through the elastic. (see photo below, found on google)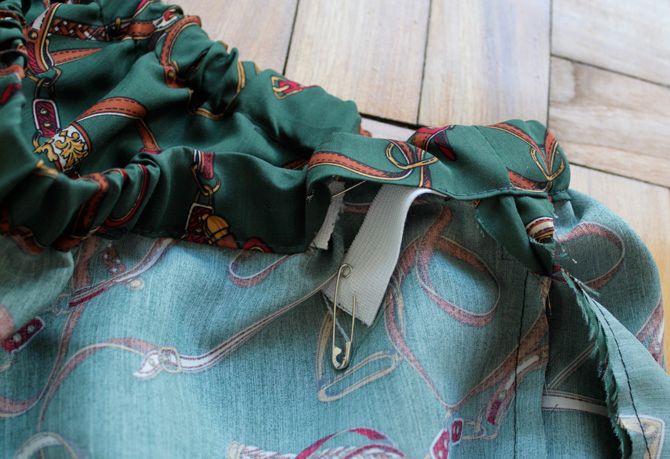 5. Cut your elastic to the size of your waist measurement plus 1 inch for seam. Safety pin one side of the elastic and start threading through the gap in the waist band, keeping it as flat as possible. Little tip, pin the other end near the gap also so it doesn't come shooting through the waist band as you pull it through.
6. Once threaded completely through sew the elastic ends together flat, and then seal up the gap in the waist band.
7. Roll up the hem by doubling it over to hide the raw edge and sew, this seam should add up to the half inch you allowed for.
8. Pockets (optional), Cut X2 square pieces 4 inches by 4 inches, with a half inch seam allowance on the sides and bottom and a 1 inch at the top. Fold over 1 inch on the top of the pocket and sew across, then iron the sides half and inch inwards and the bottom to pre prepare it.
Pin the pockets in place to where you want them and sew as close to the edge of them as possible for neatness.
9. Once complete, iron the skirt so all the stitching is neat and tidy.
And there you have it! A very easy, rectangular skirt, perfect for last minute making. If you make one please add a photo in the comments below I would love to see.
Hopefully next time i'll have some better step by step photos for you!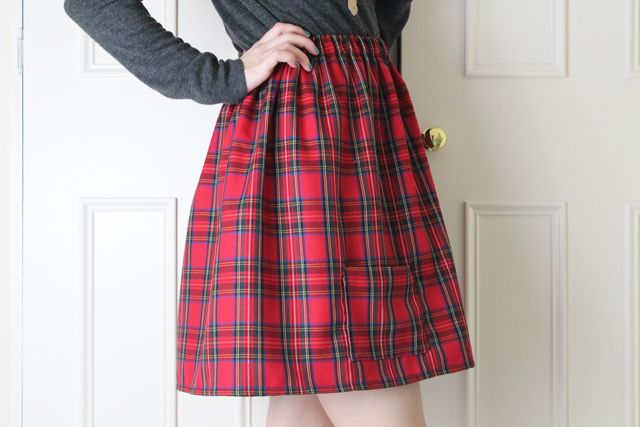 If all else fails, you can purchase a similar skirt from Mod Dolly, luckily I had tartan left over from last year so decided to whip this up. However if you aren't confident at sewing or don't have a machine etc, then shop this skirt here.