Hey all, sorry it's been a while since I last posted! I started at my new job in Mod Dolly this week and staying here with my friend and now boss Amy. Not going to lie it is very tiring to travel every day and that is only a half hour bus journey within London. I start commuting from Portsmouth as of next week and it is a 2 hour trip morning and night, don't know how I will cope but will just have to!
I am really enjoying myself here and it makes me even more excited to move to London.
If there is one thing it makes me appreciate more though, it's spending days with family being comfy, warm and eating yummy roast dinners! I miss my family already and I haven't even moved to London yet, it does sometimes feel like you are a world away. I suppose it is what you make of it and I know with time I'll get used to the hectic lifestyle.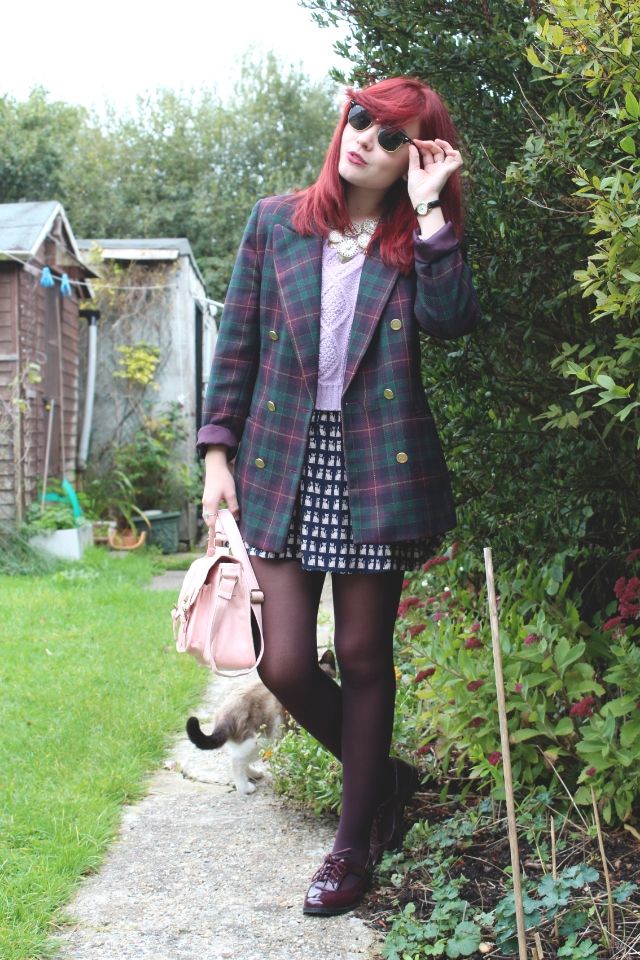 Sunglasses – Sunglassesshop
Cat Dress – H&M (old)
Lilac Jumper – She Inside
Vintage Jacket – Thrifted
Satchel Bag – Primark
Geek Shoes – Missguided
Plum tights – Primark
Necklace – Miss Selfridge
My outfit on days like this tend to be a variety of things. This particular look was a kind of throw on outfit that ends up being a nice mixture of colours that looks like I have planned it! In fact, I didn't plan this to happen but I threw on this jacket and didn't realize just how much it suited my tights until I'd left home. I like the colour pallet for autumn with the freshness of the lilac. This time of year a vintage jacket and pair of sunglasses are my go to staples, especially my new Ray Ban retro specs from Sunglasses Shop. There is nothing better than making an autumn winter outfit feel colourful!