This year is all about trying new things and feeling inspired, as you saw in my Etsy Resolutions post. Cass Art set me a Challenge to #BeInspired and create something based on a pack they sent me. With no idea what was being sent meant it was already a challenge before I even began. To my surprise arrived a pack full of clay making materials (see the photo below) which i'd only ever used once back in college. So I began thinking of ideas and felt inspired to create something I knew i'd love.
What was in the Cass Art Challenge Pack:
Inside my bag of goodies included several DAS clay making items including:
1 Pack of plain air dry Clay, 2 packs of colour mix (to create a marble effect), Clay varnish and a rolling pin.
After having a look on my Pinterest getting inspiration from things I love was easy. I've always loved bohemian and folk style decor, especially with dream catchers and wall art. The Clay made me think of when I was younger making charms with my cousins. With that in mind I decided to create a lovely mobile with sun, moon and star charms. The process was really simple not requiring much practise or clay skills. So I set to the task of making it and had so much fun in the process.
I rolled out the plain clay first, making a sun as I didn't want any colour mixed in with it. After I made the sun I marbled together the blue and plain clay. All the shapes were hand moulded so all have a delicate yet unfinished quality to them, which I love. It took about 2 days for them to dry and set properly ready for varnishing. It took another day to varnish as I had to do one side at a time and leave to dry. This is a really easy DIY you can create by purchasing the Cass Art DAS clay! All I needed was a knife, chop stick for making holes and markings, a chopping board for drying, thread, ribbon and scissors!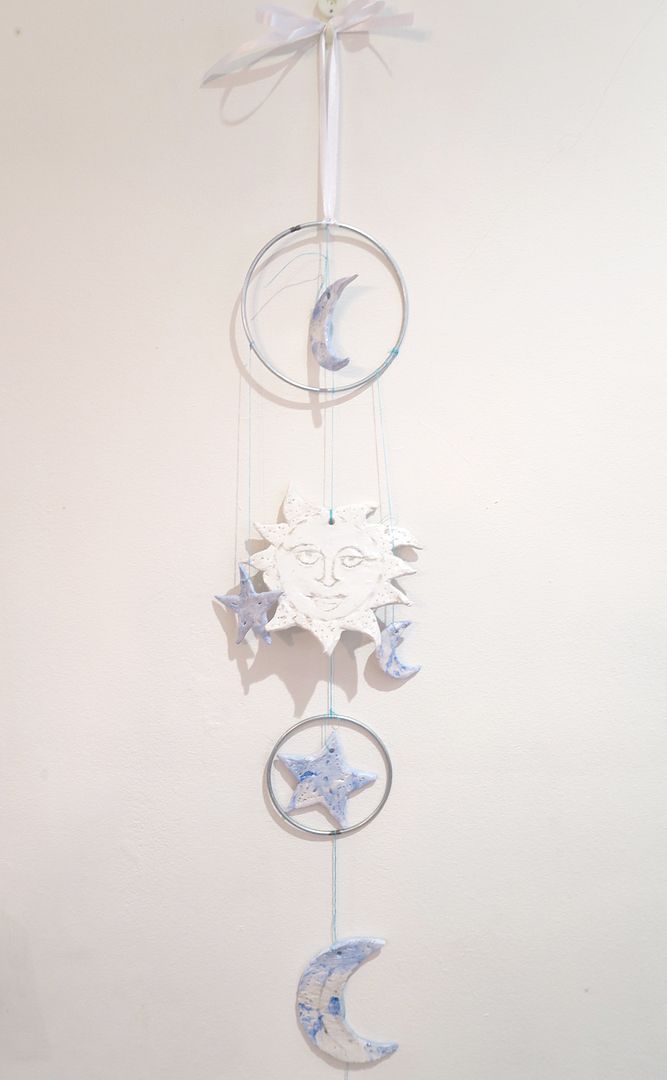 The finished mobile is lovely and I had extra pieces to make two. The Cass Art Challenge was so much fun and has definitely inspired me to try new materials more often. Being able to try something different is always a great experience. What do you think of my finished mobile? Would you like to try this for yourself? Let me know in the comments.

xxx