This autumn I have decided to really embrace my crafts and DIY posts. Working full time means it is hard to get good photos in natural light and lets face it, taking photos in the cold is never fun. I have been browsing Pinterest Craft ideas (as usual) to get some inspiration. There are some wonderful ideas that I wanted to share with you, to get your creative juices flowing! The colder months are perfect for crafting, whilst enjoying the comfort of your warm home.
Pinterest Craft Ideas
1. Decorative Bottles!
Decorative bottles are a great and easy idea for brightening the home or making unique gifts for people. Pinterest is full of quirky bottle ideas such as wrapped in string, filling with bright paint or decoupage. You could spend the Autumn months preparing for Christmas by making themed bottles, with a sprig of holly inside. Another idea would be to fill with fairy lights and have them glowing on your coffee table or bedside.
2. Pom Pom Galore!
My pom pom obsession is getting bigger by the day, especially when I see fun ideas like these!! They are SO incredibly easy to make and make amazing decor for children's rooms or parties. I have a few ideas of my own so let me know in the comments if you would like some quick and easy DIY tutorials.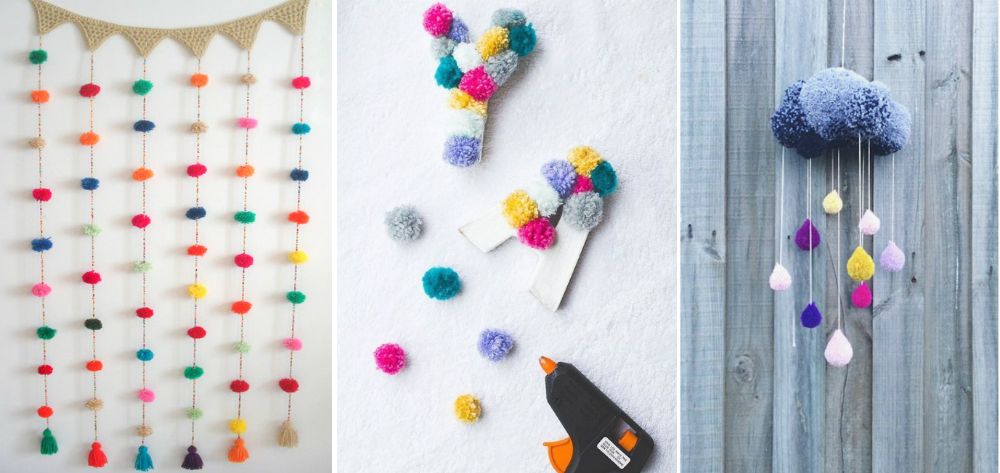 3. Frame Art
A great Pinterest Craft Idea is frame art in many forms. From box frames, letters, weaves and pressed flowers; there are so many things you can make. This is a great hand made present option for people on a budget that want to give friends and family something a bit more personalised and unique. Ideas are limitless here so definitely have a look on Pinterest for yourself.
I hope this post made you feel inspired to get crafty this Autumn. It's such a fun way to pass the time in the evenings now that it is cold outside. You don't have to be naturally creative to have a go for yourself either, just pick something easy and practise always makes perfect! If you would like to see some easy. moderate or hard DIY tutorials on my blog please comment below with your suggestions.
xxx