Halloween is fast approaching and it's time to get planning your costume. whether you are going to a party, trick or treating or just fancy getting dressed up at home its the perfect time to have fun with it. Easy DIY Costume ideas for Halloween are great for any last minute plans. You don't need to be creative or spend a lot of money to look great. Here are a few easy ideas to get you ready for the spookiest day of the year!
I decided to collate a few of the looks I have put together past and present to inspire your costumes. They rate from easy to a bit more detailed but you are sure to find something to suit you.
Easy DIY Costume Ideas
Poison Ivy:
As I have red hair I have wanted to do a Poison Ivy look for years but never got round to it! This year I am making my costume and doing the full works for it. As a test run I filmed an easy glitter make up look in the Poison Ivy theme. This is a great option if you don't fancy wearing a corset or crazy outfit but want to do something a bit more adventurous with you make up.
Ice Queen:
This is another easy makeup look, with the theme of ice queen. The base face make up is contoured with a grey shadow to hollow out the face and make it more angular. The details require lots of white eye shadow, silvery face paint and glitter. I used an iridescent glitter from Sparkle Pig, available on Depop.
Mermaid & Whimsical Butterfly:
If you prefer going with something more girlie for a night out then these choices are very pretty Halloween and slightly different to the cat and bunnies you see everywhere! You just need lots of glitter, a floral head bands, my favourites are from Beauxoxo and RosesandClementines.
Creepy Doll:
This is probably the most creepy looks of all of the ones featured. There is something particularly creepy about a china doll so I went for more of a scary look. The key is to use white eye liner for the eyes and contour lines on your face. Watch the video for more on how to achieve the look.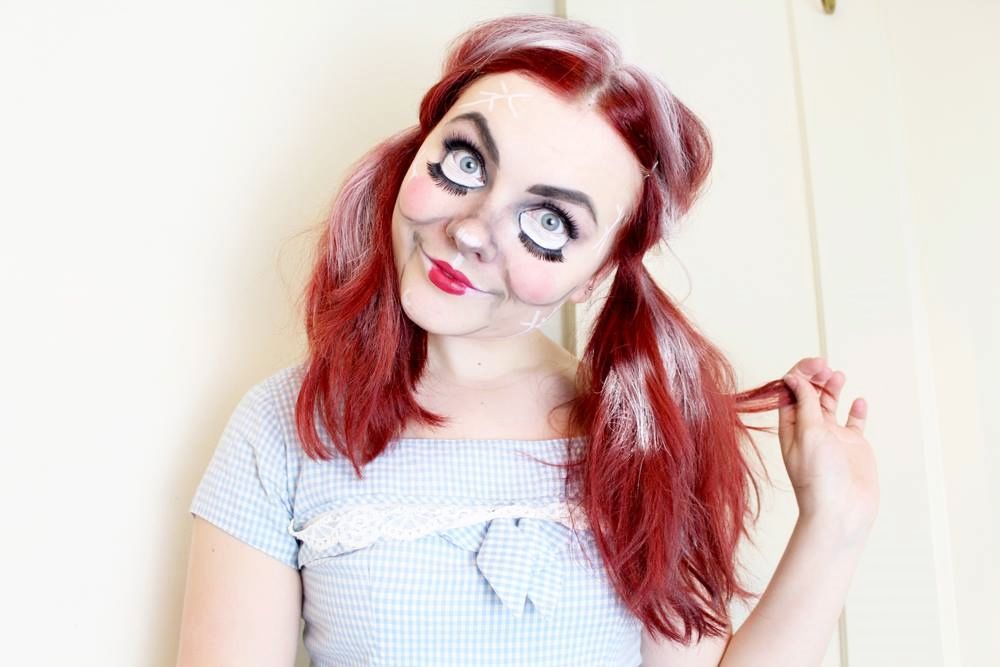 Other Ideas:
Here are a few more looks I have done in the past, including a sea monster, Sally from the Nightmare before Christmas and another doll look. As you can probably tell by now I love Halloween and getting creative with my costumes. I can't wait to see what you come up with! Hashtag #PaigeJoannaDIY so I can see your looks.
xxx