Since leaving university and joining the 'adult world' I have found myself loosing my motivation to be creative more and more. I took Illustration at University and used to love documenting my work here on my blog and recently I haven't had the time or the motivation for it. We all go through times where we loose our mojo and can't seem to bring it back. For me it was easier to make excuses then to actually stop being lazy and get out of it. As much as I love creating, and you have seen my
scrap booking posts
, it hasn't made up for the fact that I haven't been drawing and painting like I used to. I miss picking up a pencil and just doodling for the sake of enjoyment! So I decided to shake off my 2 year lull and document what helped me. I hope these things may help you in your process to being creative again.
The first thing that got me thinking about all of this and feeling more motivated is talking to friends. I have recently been spending time with Ella (check out her blog) and she has given me so much support with my work. She is a fantastic person and artist and I owe her so much for the kindness she's given. After talking with her I decided only I can start doing it again. That's why sometimes just talking to friends about it can really help believe it yourself. We all need a bit of encouragement and I guess it took this to help me.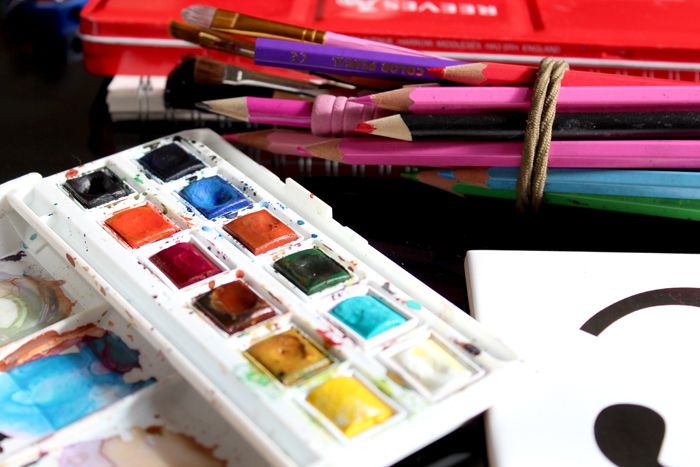 I was so excited to get started so I went and brought some re-fills for my Daler Rowney paint set. There is no better feeling then using new paints, sketch books and stationary! Especially when getting back into things, I definitely suggest treating yourself and fuelling your excitement for it again.
Okay, so not everyone likes tea, but what I mean is just make yourself something that helps you relax. The main thing is to not take things so seriously all the time and just take being creative casually. I always thought every drawing or thing that I made had to be perfect the first time but now I know it's okay to scribble, doodle and jot down whatever is in your thoughts.
Comparing myself to others is my worst trait. I wish I didn't do it so often but it's one of the main reasons why I stopped creating. I can't really say that comparing myself wont stop, because it's natural! The way I am trying to look at it now is to compare myself positively and know that it doesn't effect my talent.
So lastly, JUST DO IT! I kept making excuses and the truth is only you can change things. Take the steps that will build your confidence and get you on the right track to feeling good about you and your work. Try reading magazines or drawing from the images in them, it really helps practise again! Good luck and I hope this blog post helps you get your creative mojo back!