Hello everyone, I can't believe it's nearly time to say goodbye to 2014! I thought a great way to say goodbye to the year on my blog would be to look at past outfit posts from each month. I have chosen a few favourites to represent each month and put them all together as a little run though, I did this last year as well and it's so interesting to see my personal style progress over 12 months! Hope you enjoy and happy new year.
January was the month I stayed in tights, comfy skirts and jumpers! I loved wearing ankle boots with dresses and focused mainly on comfort with my styling.
February was when I went and stayed in London for 4 weeks for an internship, as you can see I rather liked (and still do) pastel blue and green. It pretty much started my love of spring pastels very early in the year!
March is a happy time of year for me, the sun starts shining and I instantly love brighter and fresher colours. I remember feeling so happy here and completely comfortable in my looks and personal style.
April I continued to love pastels and bright colours as well as garish prints!
May had so many looks I loved so it was hard to choose my favourites! It was all about footwear and cute accessories this month, as well as getting my pins out in the sunshine!
In June I was in full girly colours, styles and prints. Wearing florals and pastel colours!! Hello summer.
In July I was trying out new trends, like metallics and matching sets. Still wearing lots of floral prints but trying out trousers and longer dresses! It was a fun month of styling.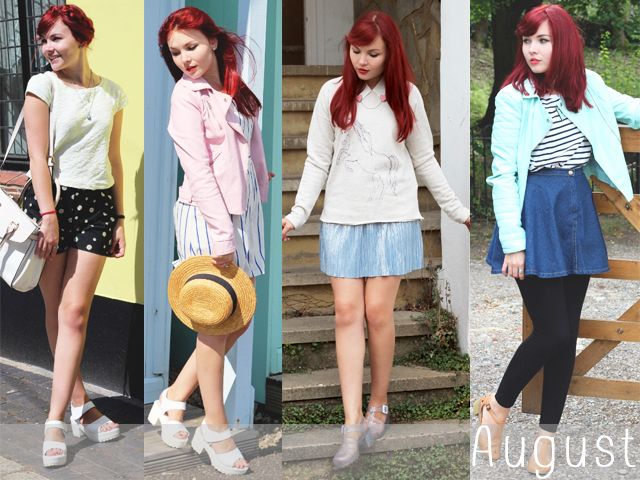 In august I cut my hair to a long bob! Looking back, I miss my long hair and not sure why I ever cut it, but we all have these crazy moments. I fully appreciated living by the seaside this summer and I really get a sense of nautical vibes in my outfits.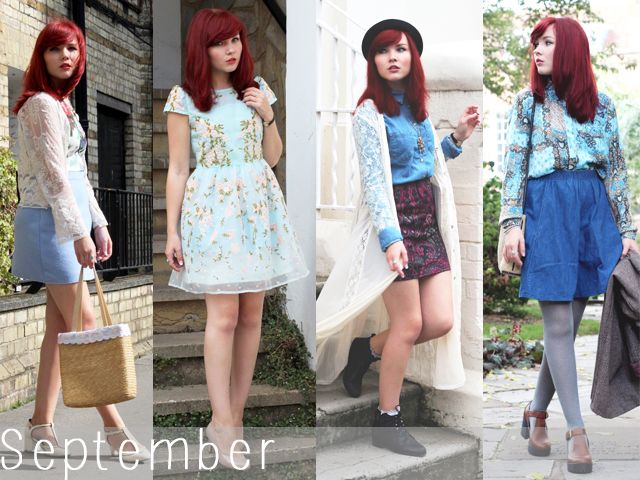 September is LFW month and I went along (first image) in pale blues and cute details. The rest of the month followed and I gradually started playing around with layering as the days got a bit colder.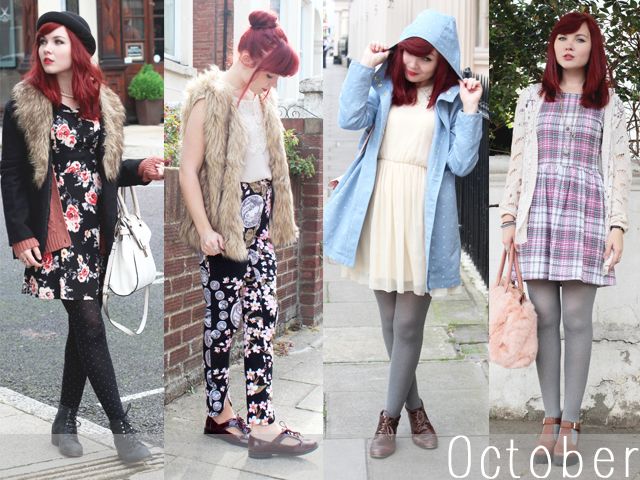 October is probably my favourite month for clothing. I love the mixture of autumnal colours and warm tones with light layering. Small jackets, tights and trousers are so versatile in this month.
In November I started full swing at my job with Mod dolly, travelling to London every day meant I haven't posted as well. What I have been wearing however was a move on from October, but wrapping up warmer! Missguided has to be my number one store from this month on wards after wearing the amazing tartan coord to the right.
And finally, December! I started the month well with new fresh posts and quirky layering and statement coats. the past week or so I have been ill in and out of hospital so again posts are fewer. I feel like I look a bit older and am dressing more fun rather than fashion lately.
I can't wait for 2015 and to see my style evolution over the next year, what was your favourite month of mine?