So, here is another crafty post for you all. I got my thinking cap on and decided I would fulfill my boredom with a little DIY, modifying some old jeans and making them into a completely new garment Hope you find the steps easy to follow and if you try it out for yourself PLEASE let me know. Would love to see them and also get a little post on your blogs about it? Anyway, enjoy!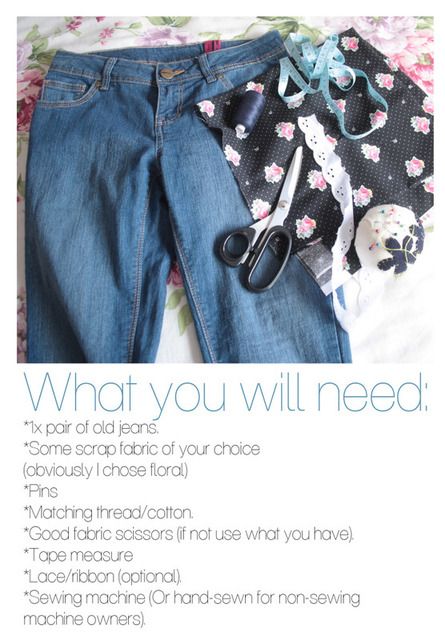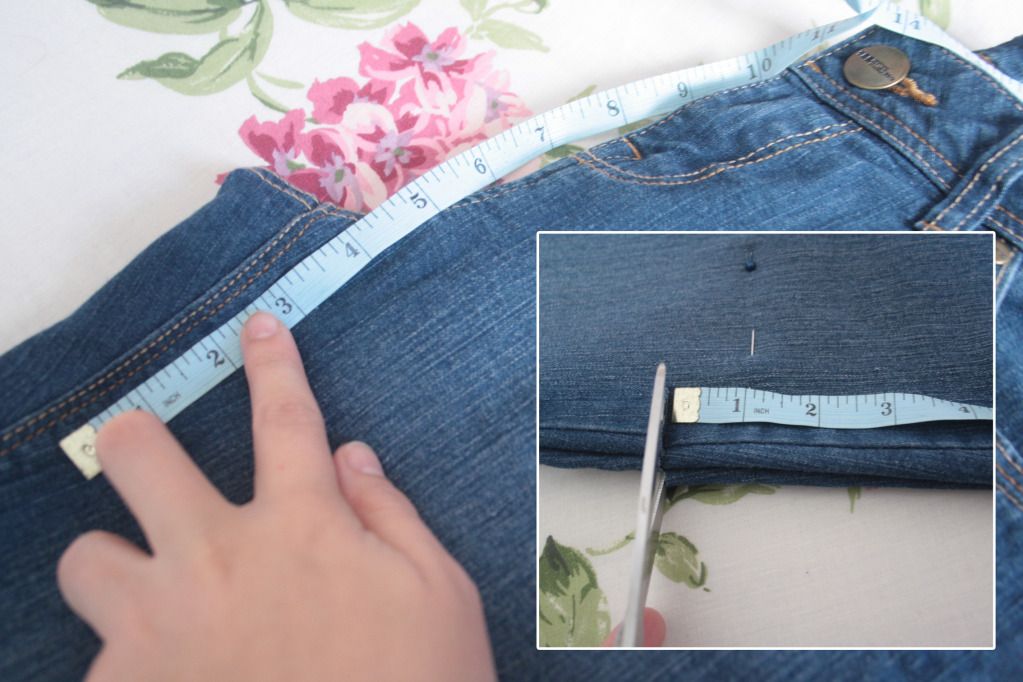 1. Measure roughly where you want your inside leg measurement to be for your shorts. Add an extra Inch for turning up. Or if you would rather have a rough edge cut from the first measurement.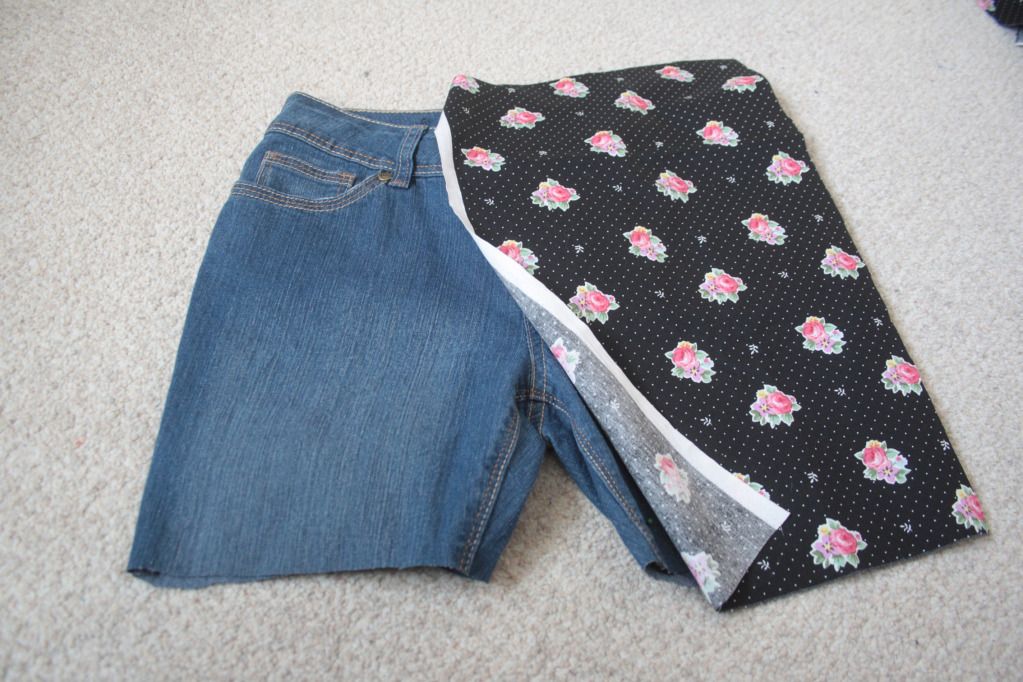 2. Lay the fabric over the side of the shorts you want to cover and roughly cut into a rectangle. It is better to have more fabric then less so there is enough to fold under.
3. Okay, so may look quite simple but you have to follow the shape of the jeans and tuck under the fabric and pin. I tried to take photos of the progress for you but to be honest it is a bit of trail and error especially as every pair of jeans are different. My advise is start on the straight edges, flatten the fabric as you go so it lays flat. At the corners cut with the scissors a line in the hem (folder under) to make it easy to change direction with the fold. Don't be afraid to have to try this a few times! If you have a lot of fabric excess cut it slowly as you go to make it easier to fold, especially on the fiddly sections near the pocket.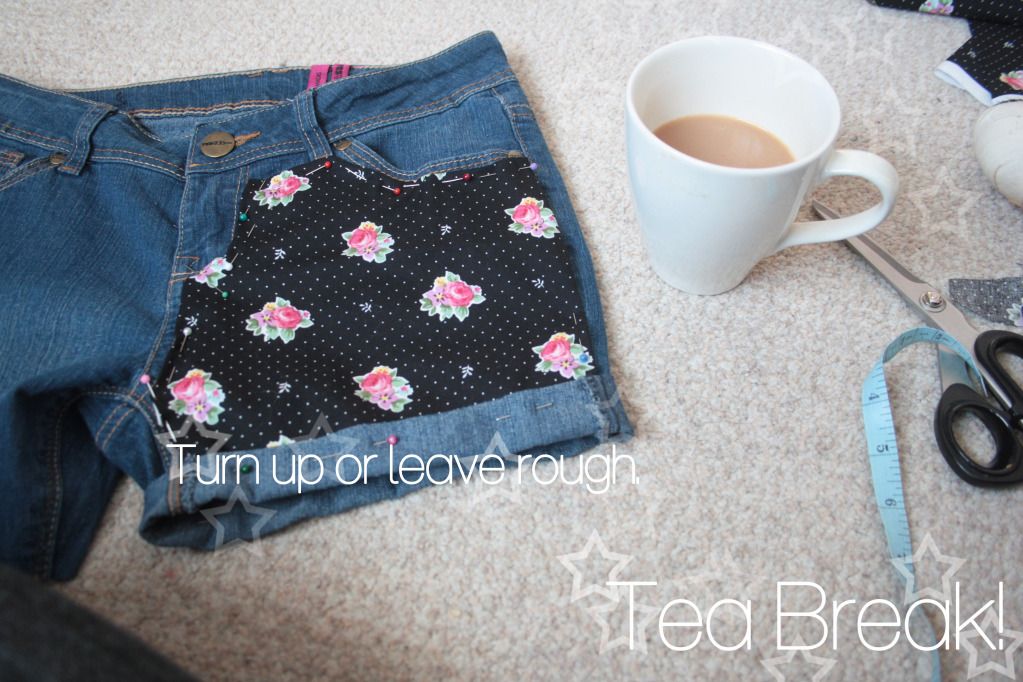 4. Turn up the bottom hem of the shorts (or leave them rough, depending on your preference.) They are now ready to sew! Have a little break, mop your brow, breath. Whatever you need to do.
5. Sewing is a little tricky, again I started with the straight edges on my sewing machine, on the pocket and crotch I hand-stitched because I snapped one of my sewing machine needles trying to do them with it. So please be careful of your fingers! (patronizing advise) haha.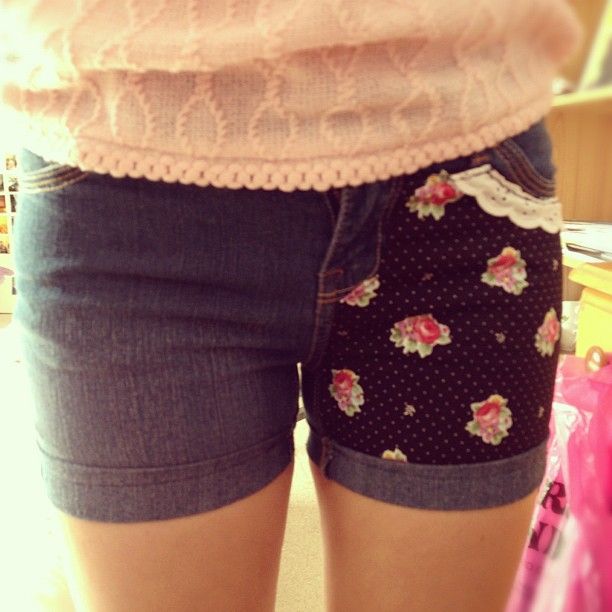 6. Finishing touches, hand-stitch the lace around the pocket and TADAAAA!! You have yourself a new garment to add with all your other lovely clothes. p.s don't do what I did and make them all before trying on the jeans. As you can see in the image they are a little snug!!
Hope you enjoyed the DIY, let me know how you get on, go my pretties, fly,fly!!