This is a new blog series I wanted to start, putting the spotlight on online influencers and brands. Online communities can be filled with negativity at times, so I want to share the good. So many of us work our arses off to produce amazing content in the hope it inspires and makes others feel something. Today I am sharing the love to my fantastic friend Sophie Hannah Richardson. We met a couple of years ago at a Boohoo event and got close after discovering we lived a short walk from one another. She's been a huge support to me in the past year and has flourished online. If you haven't already seen her work, where the hell have you been? I asked Sophie some questions to get to know her better, what she has planned and what inspires her.
Interview Questions:
1. What made you want to start an online platform? I was freelancing as a stylist when I left university so wanted somewhere I could share my work. I did this for about 6 months and then started to add a blog element to my website where I posted my outfits of the day. This then progressed into social channels and my blog growing as a brand.
2. You post on all channels including your blog, YouTube and Instagram but what is your favourite and why? I think my favourite is probably YouTube. It's a lot more rewarding creating video content, especially when you try out some new editing techniques or use a cool camera. You get to be a lot more creative and I tend to feel quite proud when I've put together something I personally think looks great!
Keep your eyes peeled!
3. Do you have any future plans for your content you are excited about? I have lots of videos lined up that I'm going to be shooting soon that I am excited about. I obviously don't want to give too much away, but they'll be involving lots of glitter and lots of hair dye! So make sure to keep an eye on my YouTube for those!
4. You went freelance last year with your online brand, what has been your biggest achievement since going full time?
I think it's going to be my collaboration with L'Oréal. Even though this was organised just before I went full time, the Colorista hair dye has only just launched so it's a really exciting time at the moment, especially seeing my face in lots of retail stores, worldwide! It's crazy!
5. Who are your favourite people to watch on YouTube/follow on Instagram? Ooo this one is hard as I love to watch so many people! Obviously I love to see what you're getting up to, amongst bloggers like Charlotte Hole, Zöe London, Megan Ellaby, Mika Francis and so many more!
Online Community:
6. If there is one thing you could change about the online community what would it be and why? It can sadly be a little bitchy at times. I tend to steer clear of it if I'm honest but I used to work as a social media manager and the PRs were very clued up about who didn't like who etc.
It's a shame because we all know how hard it is to work in the online world, we go through the same stressful scenarios of chasing money etc and so it would be so much nicer if we could all get along. We're in it together at the end of the day. I personally don't think there's any competition amongst bloggers – some would disagree however – but people don't only follow 1 blogger, people follow many for different reasons. And everyone is different! Whether it's their hair colour or their personality that makes them stand out.
Inspiration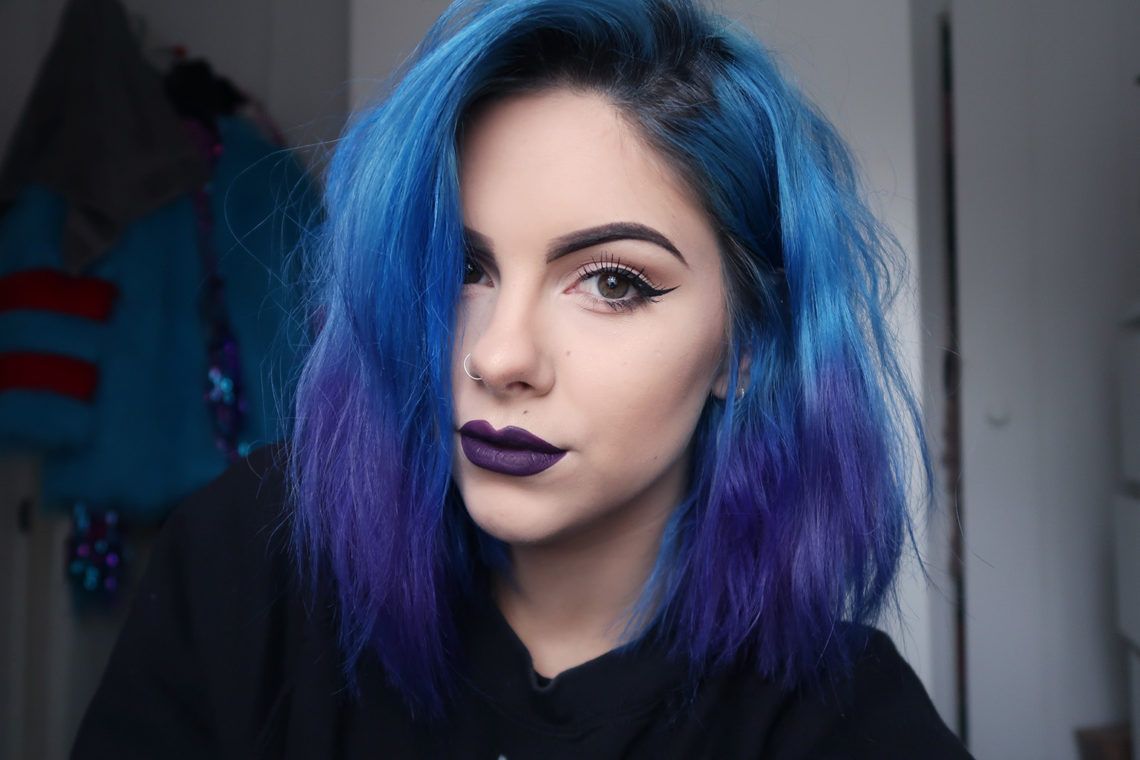 7. What are you biggest inspirations for motivating yourself and driving your ideas? I'm always searching for ideas. I'm usually inspired if I see a random unicorn or mermaid trend that's popped up on Cosmopolitan. As crazy as it is, I'm usually the first one to give it a try!
8. What makes your online presence unique? I'd probably say my hair tutorials. Obviously there's lots of influencers offering hair tutorials on their channels, but for me I personally feel at the moment in the UK, the hair tutorial videos are my niche.
9. What are your intentions for the future of your online presence? I've got lots of plans in the pipeline at the moment. I'm hoping for a couple of product collaborations this year as that's something I haven't really done yet and feel I want to experience with a brand.
10. Lastly, what is your own favourite video we have to go and watch right now? Ooo, well I recently tried out the latest eyeliner trend: UNICORN HORN EYELINER – so if you want to see me create that, then head over to my YouTube channel!
Sophie's Channels:
Blog // Instagram // Twitter // YouTube
If there are other influencers you would like me to interview or share the spotlight with, let me know in the comments!
xxx