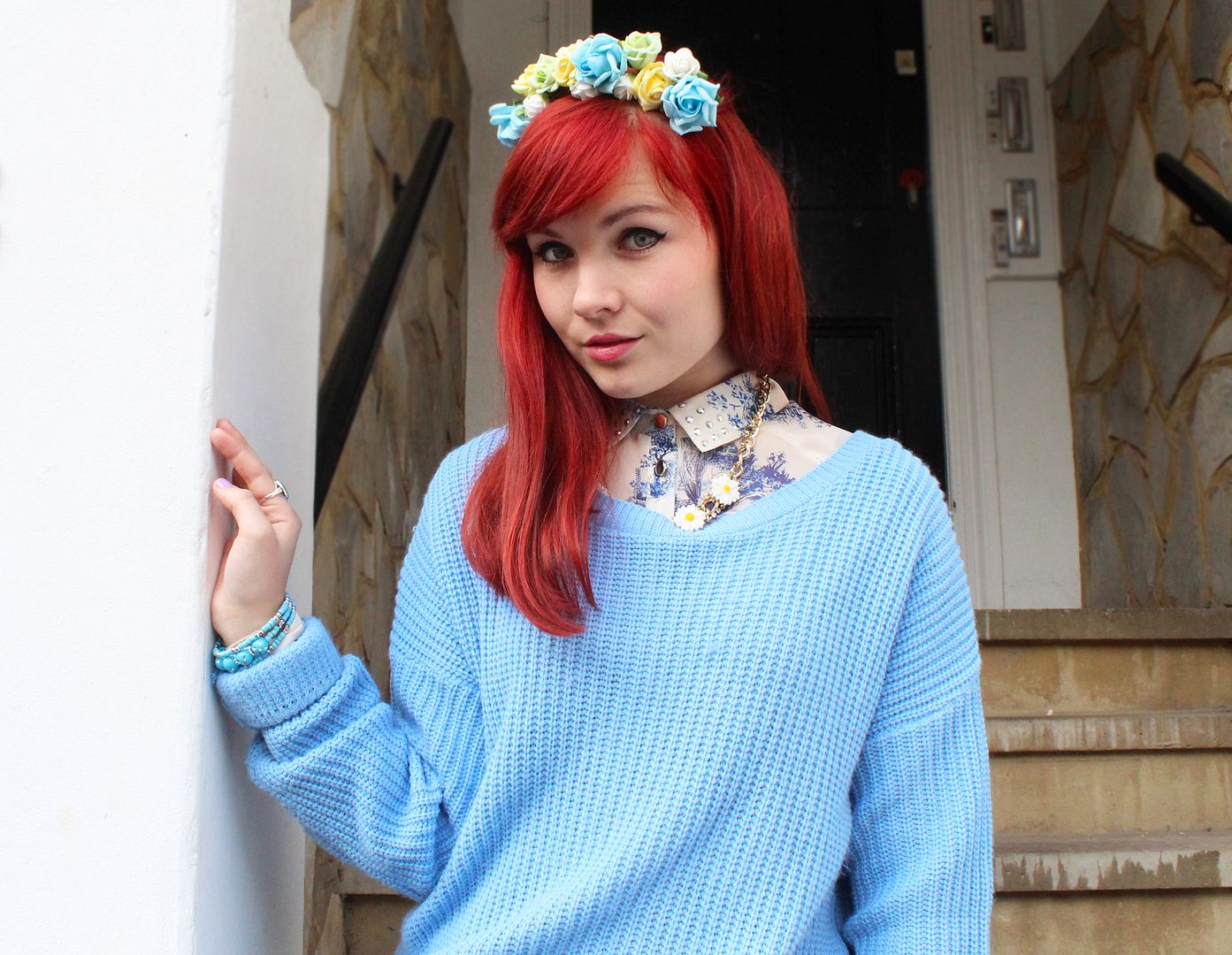 I cannot believe how quickly the weekend went by! I had such little time to spend blogging or catching up with illustrations. Never mind though, I have today off with my boyfriend Chris, so it worked out nicely in the end! I actually quite like Monday's off when they rarely happen as Chris is always off work and means town is quiet if we want to do a spot of shopping. I also got him to take some outfit photos for me as well! He took these photos in today's post and some more today so he's doing well, although I don't hear the end of it sometimes haha.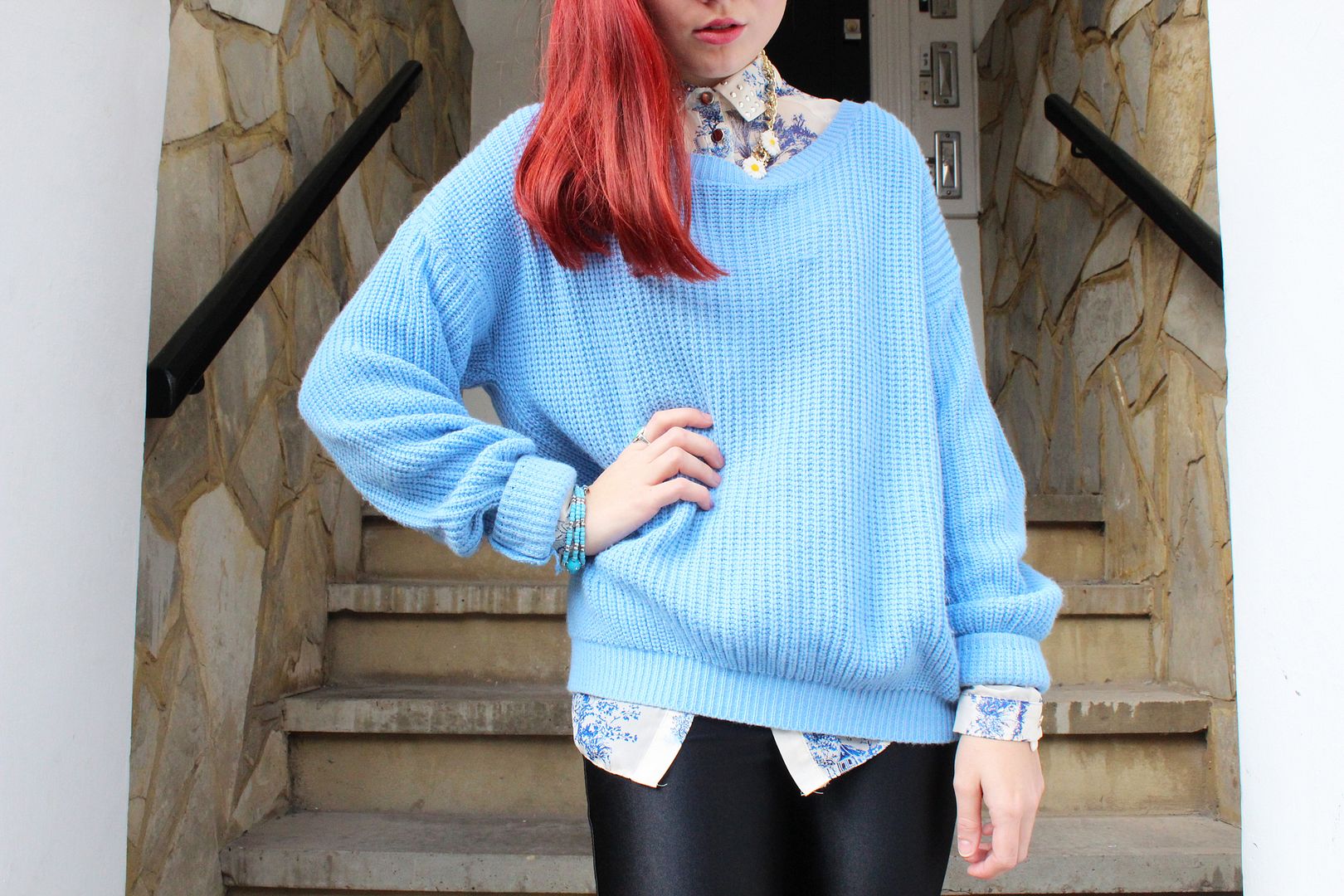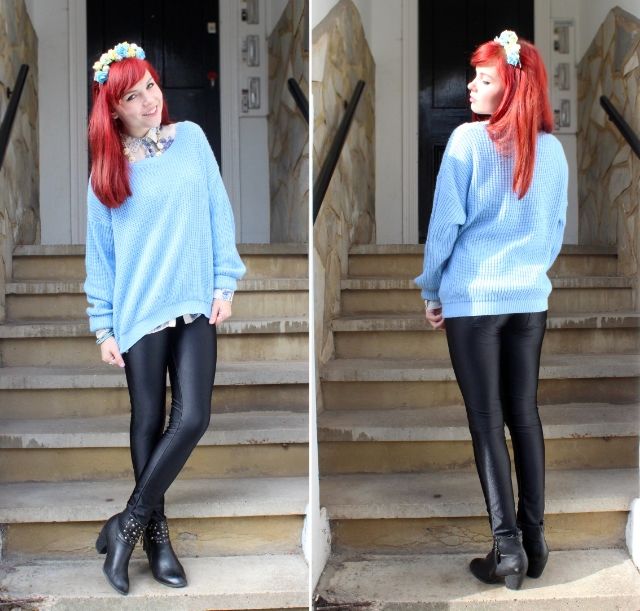 Blue Jumper – Karma Clothing
Pleaher Leggings (Disco Pants) – Karma Clothing
Black Studded Boots – Primark
French Patterned Blouse – Primark
Head Band – Roses & Clementines
On Saturday this was my outfit, the weather was really erratic, a mixture of extreme wind and rain, so I wanted something comfy and warm. I got sent these amazing 'Disco Pants' from Karma Clothing, as I have wanted to try some for ages now. I know I am very behind on the whole pleather leggings trend but I just never thought I would pull them off let alone actually like the way they look on me. I was pleasantly surprised though on how they look and feel on, they aren't tight and uncomfy at all. They are so stretchy they sort of mold to your shape and fit nicely, these ones are pretty thick and good quality as well. So I may have to play catch up and get some nice looks together with these! I wanted to add some colour to the outfit so chose a longer length jumper to just go over my bottom (as leggings can show of quite a lot)! I layered the jumper over this pretty, long sleeve blouse from Primark, I love the pattern which added some delicate detailing to the outfit. The head band was a great accessory as made me feel girly a wintery day feel more summery. The boots are last years from Primark and I decided it was time to start wearing them again, they are an easy heel to wear in the day or evening and go with pretty much any outfit!