Evening all! Wow can't believe I haven't posted since Saturday!? How is time going so fast, it is crazy. I thought I would put this little post together for you to let you know I am still alive and day dreaming about all the goodies I would like to buy when my student loan finally makes an appearance!
A couple of things I already know as a definite and The rest I am still considering.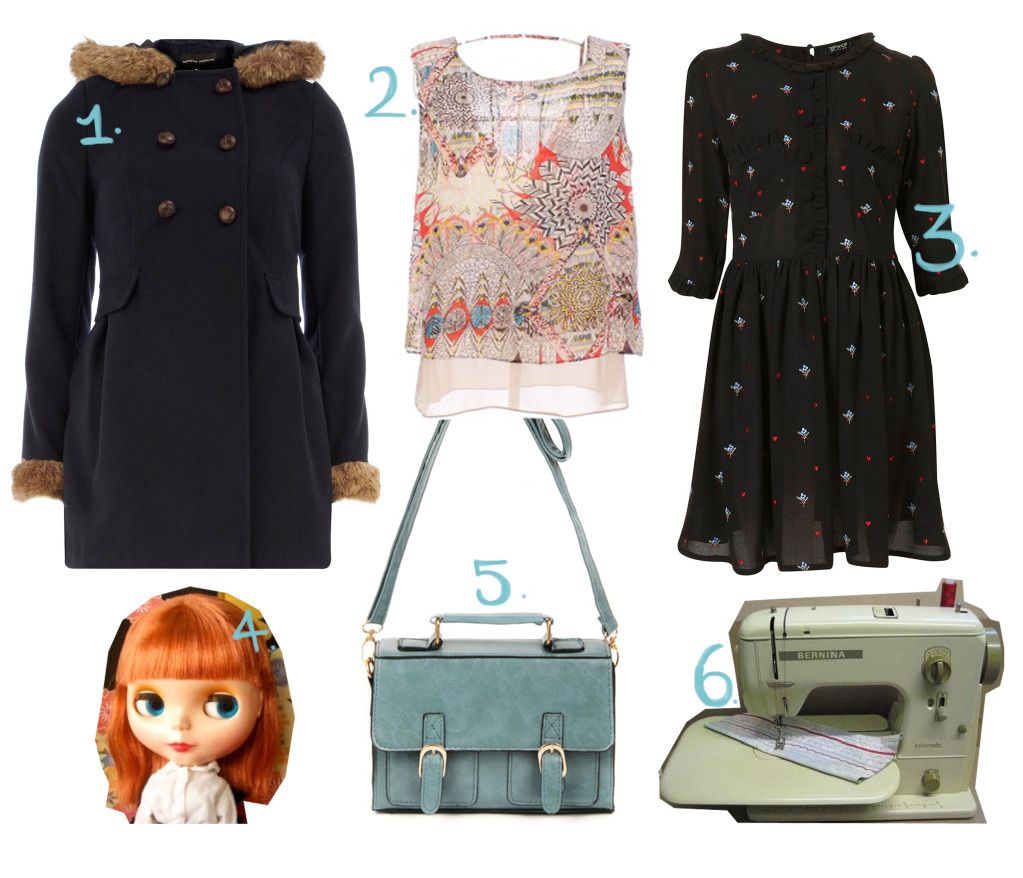 1. Dorothy Perkins Navy Fur Duffle Coat - £60 pounds. This is my final choice of a coat and all I need now is some money and I can buy it, I just love the fur trim and I think it will be a very practical daily coat!
2. Jolie Moi Ethnic Print Chiffon Top £25, This is one of the items I have sent off for from Jolie Moi and the more I consider it arriving in my post box the more I want it! I think the material looks so pretty and I hope it will be flattering on me and also be a cute versatile print to mix and match with bottoms.
3. Topshop Floral Embroidered tea dress £55, This is such a delicate and pretty all round amazing dress for the colder months! Really liking this one right now and I think may be in my 'maybe' pile of things I would possibly like to buy.
4. BLYTHE DOLL! You must have seen these before? Well if not I have been lusting over them for years and me and a fellow illustration buddy have decided to finally get one. I found a clone one on Ebay which will be snapped up in the coming week! Yes, I am 21 years old and I still like dolls.
5. OASAP Double Pouch Pocket Satchel $67, this bag is my wish list wonder and would be a perfect contribution to my University wardrobe! Not to mention I am crazy about light blue at the moment, if you haven't already noticed! haha.
6. BERNINA 707 Sewing Machine! My oh my, you will not believe how excited I am to tell you this but I finally have my dream sewing machine, well put by in a shop in Middlesex for me! Collecting it on Friday with my Uni chum who is also a die hard fan of these beautiful machines. I really cannot wait to start creating some free hand embroidery again!
So that is it, I could probably sit here hours and tell you everything I want but that is just greedy! still living my by buy less wear more rule and it is working. I feel more guilty when I buy things and I take ages making up my mind when choosing new clothes. Shame my bank balance is still suffering!
Hope you enjoyed today's post.